Government Study Links Mold & Mildew to Carpet
The Problem
You don't typically see it but below that traditional basement flooring is a world of mold and mildew that would shock you. Carpet, tile, paints and coatings applied over concrete (especially in basements areas) often promote the growth of mold and mildew beneath their surface. As mold spores grow and contaminate the air, imagine what you and your family members are breathing while working or playing in your basement or each time your furnace kicks on and draws in that moldy, spore-filled, unhealthy air…spreading it throughout your home.

Many governmental studies recommend that carpeting and tile should not be installed on a basement floor because it is susceptible to mold and mildew which promotes unhealthy air quality in your home.
 Here's Why:
There is a world of difference between covering plywood sub-flooring throughout your home versus covering concrete in your basement. Concrete is porous and moisture migrates upward through concrete from the damp, cold ground below. Your basement may appear dry but when the concrete surface is covered with products like carpet, tile, or other coatings, the moisture becomes trapped between those floor coverings and the concrete surface (just look at the dampness under your front door mat on a dry day). The concrete cannot breathe, the moisture has nowhere to go, there is no air flow and it is dark and damp…that's the perfect breeding ground for mold and mildew, which leads to unhealthy air quality throughout your home!
The Solution:
Only The Authentic NATURE STONE Brand Flooring System (with its patent pending formulation) is designed to allow the concrete to breath, the moisture to evaporate and actually prevent the growth of mold and mildew, thereby promoting a healthier and cleaner environment inside your home.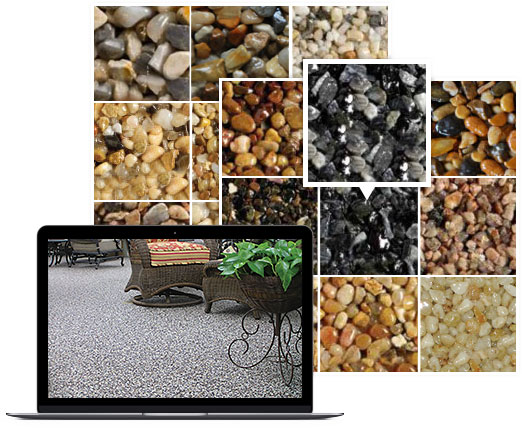 Take a look for yourself to see how Nature Stone brand flooring can transform any area in your home into an attractive, unique living space using our room planner. Our flooring is durable and will remain this beautiful for years to come!