FREQUENTLY ASKED QUESTIONS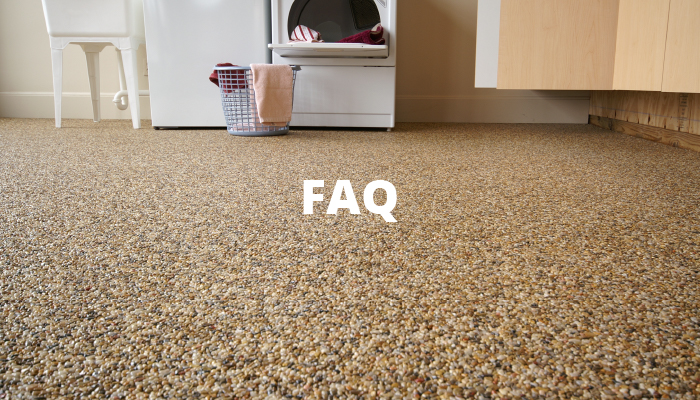 Having been fortunate enough to be in this business for 30 years now, we've pretty much heard it all! Below are answers to some of the most commonly asked questions from prospective customers.
We also have full pages explaining our pricing and our installation process.
Q: How much does NATURE STONE® cost?
The cost of NATURE STONE® Brand Flooring depends on many variables, which is why it's difficult for us to give rates without actually at least seeing photos of your space.
Some of these variables include the current condition and required preparation of your existing concrete, the type of stone that you choose, the required stone-to-epoxy mix ratio, and the amount of stone material (thickness) needed to correct uneven concrete areas.
Please follow this link to learn more about how our pricing works.
Q: Is a NATURE STONE® floor easy to keep clean?
Both indoor and outdoor installations of NATURE STONE® Brand Flooring are easy to keep clean.
You can use a vacuum for everyday cleaning of loose dust and debris. Most common household cleaners will work well, too.
For heavy duty cleaning of spills and stuck-on grime, we recommend our customers use one of our specially-formulated cleaning products. And yes, both a steam vacuum and shop vac can be used on your flooring.
Read more about the care and maintenance of your new floor right here.
Q: How long will it take to install my new floor?
Q: How long do I have to stay off my new floor after installation?
A: You can walk on your NATURE STONE® floor within 24 hours after the topcoat is applied. For outdoor or garage applications, it is recommended that you not drive on the floor for 7 days after the installation.
Q: Does NATURE STONE® require any ongoing maintenance?
A: As with any floor covering, NATURE STONE® Brand Flooring should be cleaned periodically.
Top-coating is recommended if the shine begins to fade or becomes dull. You'll be given care/maintenance guidelines with your contract, and we're always here to help with any questions you have.
You'll also be entitled to a free annual flooring inspection. With proper care and maintenance, NATURE STONE® Brand Flooring will stay strong, durable, beautiful, and it will last a lifetime.
Q: How does NATURE STONE® compare to competing floor coverings or treatments?
A: NATURE STONE® Brand Flooring is a better value, more durable, and better looking than all competing products. On a point-by-point basis, things like tile, carpet, or paint simply do not compare.
(This is especially true of paint! Yes, it's cheap. Yes, you can do it yourself. But paint will look bad quickly and you'll be doing it again within a year.)
Q: Does NATURE STONE® have a strong warranty?
A: Authentic NATURE STONE® Brand Flooring is the only stone and epoxy company to offer an unconditional warranty on our materials cracking, delaminating, and losing its beautiful gloss for 10 full years.
Unlike some competitors, Authentic NATURE STONE® Brand Flooring's warranty is not a hidden service contract, nor does it contain hidden disclaimers or surprises.
Read more about our warranty - known as Russell's Promise - right here.
Q: Does NATURE STONE® inhibit the growth of mold and mildew?
A: Yes. Authentic NATURE STONE® Brand Flooring incorporates an anti-microbial agent to prohibit the growth of mold and mildew. This helps to safeguard indoor air quality.
And, with Authentic NATURE STONE® Brand Flooring, because of the absence of mold and mildew, your basement should smell better as well.
Q: Will my new floor need any additional treatments or top coating?
A: Maintenance, such as periodic cleaning, is required to maintain the beauty of your NATURE STONE® Brand Floor.
A topcoat may be required on a periodic basis to restore the gloss and to reinforce the integrity of your NATURE STONE® Brand Floor. This basis is dependent on several factors including, but not limited to, UV exposure, environmental conditions and wear and tear.
All required materials and labor to address these conditions are covered under your NATURE STONE® UNCONDITIONAL WARRANTY at no additional cost to you for the time frame as stated in your warranty.
* We'll remind you to think about the need for a topcoat application periodically via email during the first year following your installation. We offer both DIY and professional options for topcoating treatments.
Q: Can NATURE STONE® be installed over severely broken concrete?
A: The simple answer is no. NATURE STONE® cannot and should not be used in lieu of replacing severely damaged, shifting, and heaving concrete, and/or concrete that is structurally unsound.
However, minor cracking, surface deterioration, and uneven concrete are no problem for NATURE STONE®.
A sales representative can determine if your concrete is suitable for a NATURE STONE® when he or she physically inspects your area. This is another reason why we do not attempt to price NATURE STONE flooring before seeing the area of interest. Doing so would be irresponsible and risky.
Q: Can NATURE STONE® be used to help redirect the flow of water?
A: No. Authentic NATURE STONE® Brand Flooring does not redirect the flow of water and is not a water-proofing system.
HOWEVER, it is specially engineered to contain HYDROSTATIC PORT℠ Technology, which allows any standing water below the NATURE STONE® Brand Flooring surface to evaporate naturally.
Read more about our proprietary Hydrostatic Port Technology.
Q: Is NATURE STONE® green friendly?
A: Yes! We practice environmental responsibility according to sustainability concepts developed by the United States Green Building Council's Leadership in Energy and Environmental Design (LEED) Program.
Read all about the environmental safety of both our product and installation procedures right here.
Q: Can I use custom logos or colors in my floor?
Absolutely. In addition to being able to create your own stone mix, you can also have a logo or border added to your flooring. You'll be able to ask your sales rep more about this during your appointment.
GET YOUR FREE COST ESTIMATE TODAY!
WE HAVE TWO EASY WAYS FOR YOU TO CHOOSE FROM