Create a Comfortable, Clean Play Space for Children
Why is Nature Stone flooring the best option for play rooms?
Creates a beautiful space for the whole family
Easily covers ugly, cracked and uneven concrete
Unaffected by dampness, moisture and even flooding
Comfortable to walk and play on
Environmentally friendly
FDA-approved
Every parent wants the best for their children. That includes the environment that they play in on a daily basis. If you have young children, then giving them the benefit of a playroom finished with NATURE STONE flooring will keep them safe and comfortable while they play.
While many people assume that a hard surface like NATURE STONE wouldn't be ideal for a playroom, that simply isn't true. A NATURE STONE floor has some significant benefits for families who want a beautiful, durable flooring option for their children. One benefit to consider is that NATURE STONE floors are warm to the touch. Unlike tile surfaces, no matter the weather, our stone floors match the room temperature, staying warm in the winter and comfortable in hot weather.
Every parent knows that kids love to run. Unfortunately, there are many flooring surfaces that can be slippery and can cause a fall. NATURE STONE, with its unique textured surface is not only non-skid, but is self-draining. Our Hydrostatic Port system quickly drains away spills, preventing the puddles that can cause slips and falls. These same ports also prevent the accumulation of dust, mold and mildew growth, creating a cleaner breathing environment for children with respiratory issues.
One of the biggest benefits of NATURE STONE flooring in a playroom is the durability. Between running, jumping, games played on the floor and spills, kids are notoriously hard on flooring. With a NATURE STONE floor, you can be sure that your home will always look beautiful. Easy to clean, NATURE STONE's carefully formulated epoxy can withstand just about anything that your kids can throw out!
If you are looking for a durable, beautiful surface for your child's playroom, then take a close look at NATURE STONE floors. With a non-skid, easy to clean surface that stays warm and comfortable to the touch, you will enjoy many years of fun and games in your child's playroom. For more information on how a NATURE STONE floor will work in your home, call us today, or schedule a free estimate online!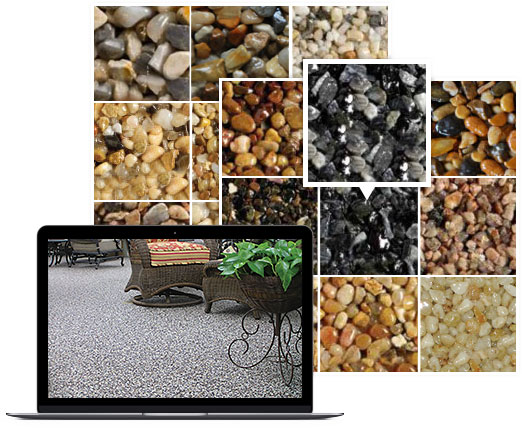 Take a look for yourself to see how Nature Stone brand flooring can transform any area in your home into an attractive, unique living space using our room planner. Our flooring is durable and will remain this beautiful for years to come!