ADD BEAUTY AND VALUE TO YOUR HOME WITH INDOOR NATURE STONE FLOORING
Authentic NATURE STONE® Brand Flooring is ideally suited as a floor covering for many concrete floors around the house. In addition to its many indoor stone flooring applications, one of the primary uses of NATURE STONE® Brand Flooring is to permanently cover cracked, stained, uneven, pitted concrete garage floors and cracked, uneven outdoor walkways, entryways and patios.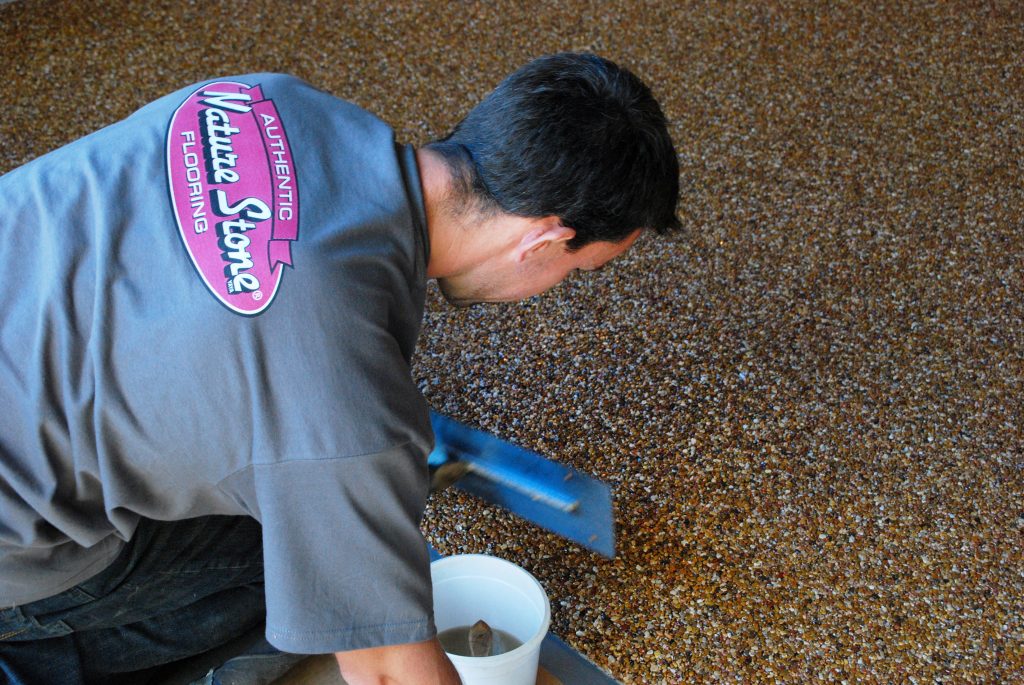 What Sets Our Floors Apart?
Indoor stone flooring with Authentic NATURE STONE® Brand Flooring is the perfect, permanent solution for basement floor covering issues associated with dampness, water, even flooding. Ideal for utility room flooring as well as laundry room flooring options, NATURE STONE® Brand Flooring is designed to "breathe" allowing water  to simply evaporate, inhibiting the growth of mold and mildew. Never replace your concrete floor coverings again Do it once, and you're done.
For everything NATURE STONE® Brand Flooring does, there is no other comparable product for permanently covering concrete floors. Simply put, NATURE STONE® Brand Flooring is in a class of its own! No other concrete floor covering product compares to the beauty, longevity and durability of Authentic NATURE STONE® Brand Flooring.
I love my Nature Stone flooring!!! We had it installed in our game room and outdoor porch. It's beautiful and literally maintenance-free. Our neighbors loved it so much they had their porch covered with Nature Stone also. I EVEN RECEIVED A REFERRAL FEE! THANK YOU NATURE STONE!!!
Debbie
I love my new Nature Stone garage flooring. It really is just beautiful! Not only that, but working with your guys was so easy. They really did an incredible job from start to finish. It was a pleasure working with them.
Our Nature Stone floor was put in today and we couldn't be happier. Mike and Stan were the Techs and did an outstanding job. They were very professional and attentive to what they were doing. I can't stop looking at the floor.
Our garage floor was completed yesterday and we couldn't be happier. The Nature Stone team that installed our floor was great. They were kind, easy to work with and very efficient. Our Nature Stone floor looks flawless and fantastic! We have already received multiple complements just from the before and after photos we shared. I won't hesitate to recommend Nature Stone to my family, neighbors and friends.
Andrew and Angela
I had NATURE STONE installed in two rooms of my basement. The end result is simply amazing! The floors are stunningly beautiful and add tremendously to the overall appearance of the rooms. I live in a century+ old home and access to my basement was challenging to say the least. The installers could not have been more congenial, helpful and determined to access the rooms. Their work was efficient and impeccable. It was a pleasure to deal with them and I am thoroughly pleased and thrilled with the outcome. I highly recommend the product and this company. Great job, thanks!
Deborah Ann
Pittsburgh, PA
Thank you for the great article in your most recent NATURE STONE News Letter, "The Heart of the Matter." It is obvious your company "Gets it." I have one of your floors in my garage located in Medina and it has held up fantastically.
Ron
Medina, OH
Just a quick note of thanks in telling you that your NATURE STONE Technician was a delight. He was courteous, friendly and discussed all of my concerns. It's so refreshing to see these qualities today. Thank you.
Phyllis
We recently had a NATURE STONE floor installed in our garage and we couldn't be more pleased with it. Your sales executive, Larry DiGennaro, did a great presentation of your product answering all of our questions and putting us at ease regarding the product and the installation. Your Service Department notified us the day before the installation and the exact time your installers would be at our home and it happened as promised. I would highly recommend NATURE STONE to anyone interested in stone flooring.
Jim
Thank you so much for standing by your warranty and replacing the Nature Stone on my porch. It looks just beautiful. My neighbors, friends, family and servicemen have been impressed by what you did and how beautiful it looks. I finished re-staining my front door and entrance last week so the Nature Stone really dressed it all up. "YaYa" would be proud.
Chrissy
We love our new Nature Stone flooring that your team installed in our finished lower level. The installers were thoughtful, professional and efficient. I work in the Customer Experience field and I hold the bar high when it comes to Customer Service and quality. You and your team excelled my expectations on all levels.
Cecilia
Previous
Next
Adding Beauty to Your Home Within Your Means
You'll be surprised just how affordable Authentic NATURE STONE® Brand Flooring can be. Learn more about Authentic NATURE STONE® Brand Flooring and not only see all the designer color choices, but see how Authentic NATURE STONE® Brand Flooring can add value, beauty, and durability to your home.
SCHEDULE ONLINE TODAY OR CALL 855-758-9092!
SAVE AN ADDITIONAL $100 BY SCHEDULING ONLINE